Our Program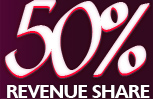 50% Revenue Share
Make 50% on every member that joins, plus 50% on all their monthly re-bills for the life of the member. We pay all of the processing fees. With this program you can rest assured your surfers will not experience any pop-ups but if they leave without signup there is one.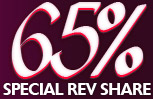 65% Special Revenue Share
Once you hit $1000 per month with us. 50% revshare will convert automatically into 65% Revenue Share. Contact us for the details.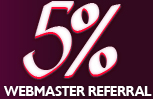 5% Webmaster Referral
For every webmaster you refer to 247mg, you'll make 5% of all their commissions earned. You'll make 5% on all their initial sales and re-bills regardless of the program they're running. This is an easy way to make considerably more money with us
247MG Partners
With our 247MG affiliate program you get paid 50% of everything we do for every sale you send! With EXCLUSIVE CONTENT, our sites have strong conversions and recurring membership. 247MG pays you on a recurring basis, this means if you send a member and that member stays active for 6 months than you make 50% of the total revenue generated in the entire 6 months.
Our Aim
No other Indian program offers you more. More trial and monthly price points. Highest console-free payouts in the Indian sex industry. Plus, our monthly payments are made on time, every time. Run Your Business the Way you Want -- And Get Paid!
Community
247MG Webmasters stick together! Through our online community our webmasters learn together and discuss the important issues that surround our industry. Real Time Statistics provide you with all the information you need to truly analyze exactly what is going on with your traffic.
Free Hosted Galleries
Finding a winning gallery design can be tough, we have taken the work out of it by proving you with Thousands of Free Hosted Galleries.
News & Updates
Retaining Members?
24/7 In-House customer support
Taking care of errors & issues
No cross-sale to rip-off members
800 numbers, live chat and e-mail
Exclusive content to download
Quality sites with daily updates
Lowest membership price
Serving Indian fans from 10 years
..........................................
Great Ratio Forever
We realize that sooner of later, if we stick with the same sites, saturation will hit and ratios will start dropping. To evenly spread the traffic out there, we concentrate on releasing new exclusive sites, tours, designs every week
..........................................
Powered By NATS5